The Baseball Hall of Fame in Cooperstown, New York is a popular vacation destination but there are many sports represented around the country that are worth a trip too.
National Pinball Hall of Fame, Las Vegas, Nevada
Some may dispute whether or not pinball is a true sport but since I spent so many hours of my misspent youth hanging around in bowling alleys I'm including it. Besides, there are competitive tournaments and those flipper fingers can get mighty tired. The Pinball Hall of Fame is unique because it honors the machines, not the players. Aficionado Tim Arnold has over 250 vintage pinball games on display and, best of all, they are ready for playing. Tip: To really stretch your playing time seek out the older machines where you still get five balls for 25 cents.
International Drag Racing Hall of Fame, Ocala, Florida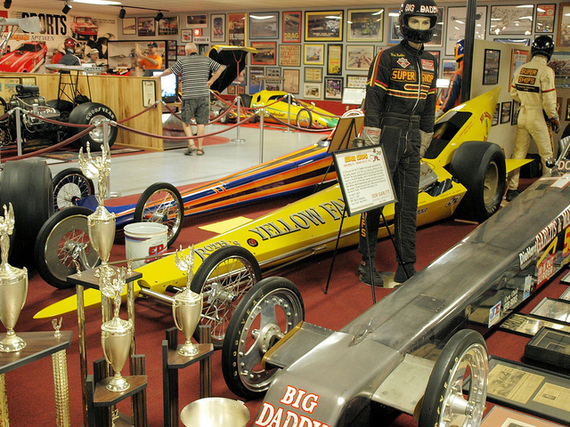 Photo by Darryl Kenyon on Flickr
Attached to the Don Garlits Museum of Drag Racing, the hall of fame honors the heroes of drag racing. You're really getting two museums here with over 300 vintage cars on view and "Big Daddy" Don Garlits' personal collection. For an extra fee the "Father of Drag Racing" himself will take you on a personal tour that includes his private garage and autograph signing. How many halls of fame can offer that?
Dog Mushing Hall of Fame, Anchorage, Alaska
The Rondy, or Fur Rendezvous, is an annual event in Anchorage that combines a World Championship sled dog race and (sort of) related activities including outhouse races, snowshoe softball and the traditional running of the reindeer down 4th Street; think the running of the bulls with furrier animals and snow. Despite all the merriment, the race itself, which is older than the famous Iditarod, is a serious event. Past winners are enshrined in the Dog Mushing Hall of Fame in the back of Caffe D'Arte. You can even try on a musher's fur coat and pose on a sled.
International Boxing Hall of Fame, Canastota, New York
Since we've been traveling around the world for three years with a Rocky statue, we just had to visit this one; and were pleased to see that Sylvester Stallone has been inducted for his contributions to the sport. Considering how huge boxing was around the world in the mid-20th century, it's hard to believe the sport didn't have a proper Hall of Fame until 1989. It opened in the upstate New York hometown of former world champions Carmen Basilio and Billy Backus. The museum is conveniently located right off the New York Thruway and includes memorabilia from boxing's Golden Age through today. The annual inductions ceremonies in early June bring out scores of well-known pugilists.
Women's Basketball Hall of Fame, Knoxville, Tennessee
We've visited the men's Basketball Hall of Fame in Springfield, Massachusetts and the women's in Knoxville and have to say the latter is much more interesting. (And not just because our Philadelphia hometown favorite Dawn Staley is an inductee.) You really get a sense of the history of how women's basketball developed from its humble roots in 1892 when the women wore wool bloomers as uniforms to the sleek sport of today. Plus how could a true hoops fan not like a place which boasts the world's largest basketball? Make sure to test your dribbling and shooting skills on the basketball courts.
Pro Rodeo Hall of Fame, Colorado Springs, Colorado
Pro rodeo riders may take the prize for the most bruises suffered in their sport. But it's all worth it to win a silver belt buckle large enough to serve a full rack of ribs on. In the Hall of Champions, cowboys in each rodeo event are honored with plaques, memorabilia and cowboy-themed artwork. The Heritage Hall with its displays of saddles and equipment over the years is a must for rodeo fans.
Harness Racing Museum & Hall of Fame, Goshen, New York
This free museum is one of the best presented we've seen anywhere. Even someone with only a passing interest in horses will be mesmerized by the displays highlighting the history of the sport. You can even don a set of racing silks and helmet and put yourself in the driver's seat for a cool photo op behind the working end of a racing horse. (As Larissa demonstrates above.) The lifelike statues that are created to represent each honoree are truly outstanding. An active racetrack sits behind the museum where you can visit the stables and even meet a few of the horses.
Volleyball Hall of Fame, Holyoke, Massachusetts
Despite its southern California beach vibe, volleyball was invented in 1895 by William Morgan in Holyoke, Massachusetts as a less physically demanding alternative to the new game of basketball. Once it took hold in Asia in the early 20th century it grew into the second most popular team sport in the world after soccer. The Volleyball Hall of Fame opened in 1987 and is one of the most international of all sports halls of fame with inductees from 21 countries.
National Yo-Yo Museum, Chico, California
This quirky museum may not be an official hall of fame, but since they display the yo-yos used by the winners in the World Championships, I'm including it. Besides, where else can you see the world's largest working wooden yo-yo? They dangle it from a construction crane to play it. Come to Chico in October when they host the global tourney and be amazed what the competitors can do with a little round thing spinning on the end of a string. Note: Be careful parking in Chico and make sure you keep the meter fed. The meter maids are pretty aggressive.
Jousting Hall of Fame, Mount Solon, Virginia
Who knew there was a National Jousting Association, that it's the official sport of the state of Maryland, or that there's even a Jousting Hall of Fame? This is not a tribute to some long dead medieval knights but a museum dedicated to active jousters. It's a bit less bloody these days as the competitors try to spear a ring hanging from a string rather than each other. The Hall of Fame is nestled in picturesque Natural Chimneys Regional Park.
International Bowling Museum and Hall of Fame, Arlington, Texas
The good folks at the International Bowling Museum and Hall of Fame claim that bowling is becoming a worldwide phenomenon with participation by over 90 million people. I can believe it. When we were in Pyongyang, the capital of North Korea, we visited Golden Lanes which was mobbed with bowlers. Bowling dates back to ancient Egypt and the complete history is on display here. It will even interest people who don't know the difference between a 7-10 split and a 7-11 store.
Weightlifting Hall of Fame, York, Pennsylvania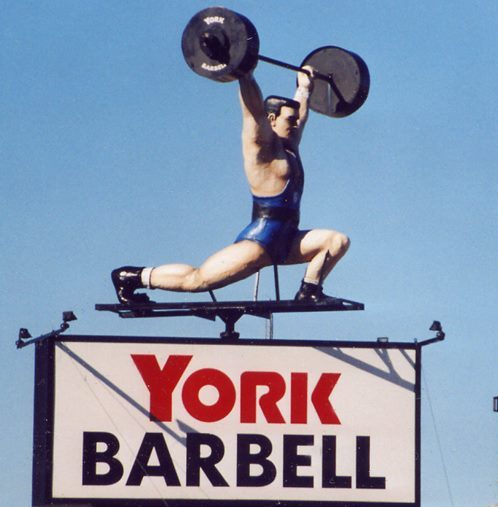 Photo: Ron byFlickr
If you've ever driven along Interstate 83 just north of York, Pennsylvania you can't miss the 13-foot tall fiberglass statue of a man lifting a barbell over his head. Referred to locally as "The Barbell Guy," he's hoisting that weight above the York Barbell Company (Arcane trivia: York is also the birthplace of the York Peppermint Pattie.) Inside the company headquarters an 8,000 square foot space has been set for the Hall of Fame. You'll pass a larger-than-life statue of Bob Hoffman, known as the "Father of International Weightlifting," he also founded the York Barbell Company. Exhibits inside the hall present the history of weightlifting and honor both male and female greats of the sport.
What other sports halls-of-fame do you suggest visiting?
In 2011 Philadelphia natives Larissa and Michael Milne quit their jobs, sold their house and gave away their possessions to travel around the world with a Rocky statue and have been on the road ever since. You can follow the journey and pick up valuable travel tips on their award-winning travel blog at Changes in Longitude.
Follow Larissa and Michael Milne on Twitter: www.twitter.com/changes_long
Click here to view the original article – http://www.huffingtonpost.com/larissa-and-michael-milne/offbeat-sports-halls-of-fame-drag-racing_b_5700828.html?utm_hp_ref=travel&ir=Travel